About Galpin Motors
Our history of innovation is unmatched in auto retailing. See how we've made it our tradition.
Galpin Motors, based in the San Fernando Valley since 1946, is a world-renowned, award-winning automotive enterprise. Owned and operated by Bert and Jane Boeckmann and their family, Galpin Motors is truly unique in its long history of community service, including the support of tens of thousands of educational, spiritual, cultural, charitable and political institutions and organizations throughout the world. For his leadership and philanthropic endeavors, Galpin Motors owner/chairman H. F. (Bert) Boeckmann II has been honored as a Hero for the Planet by Ford Motor Company. His son Beau is President/COO of Galpin Motors and President of Galpin Auto Sports.
With Bert Boeckmann's visionary leadership of Galpin Motors, the emphasis on giving customers more than they expect involves every single facet of Galpin operations. From the moment you enter any area of "The World of Galpin Motors," we want you to feel welcome, comfortable and at home. We want your Galpin experience to be something you can recommend to your family and friends.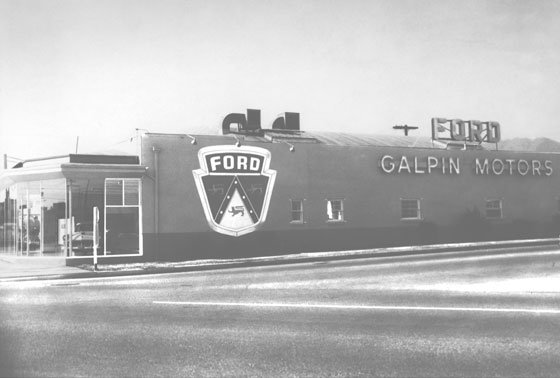 1946
Frank Galpin opens Galpin Ford in the City of San Fernando. The showroom holds 3 vehicles; 46 cars are sold in the first year of business.
1950
1950 relatives of Galpin employees in Galpin's "1914 Ford Model T"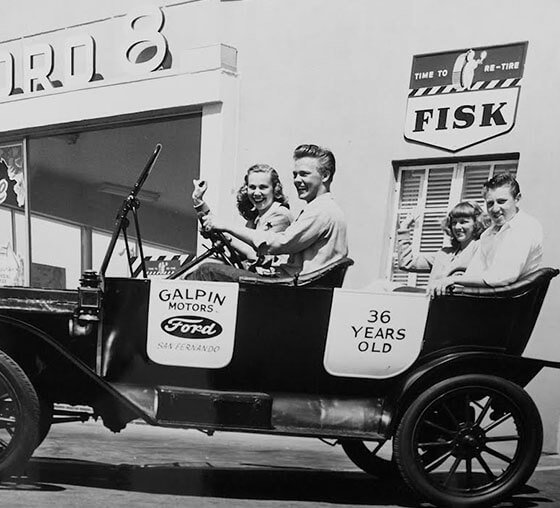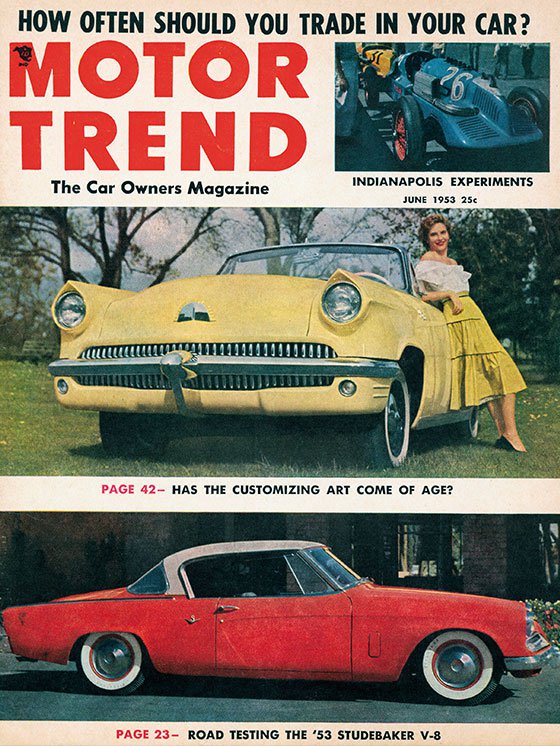 1952
First Galpinized vehicle, the Galpin Custom, a '52 Ford convertible modified with Mercury and Lincoln parts, debuts at the Motoroma and subsequently graces the cover of Motor Trend.
If you strive to put God first, family second, business third and everything else - including yourself - somewhat after those three, you set a tremendous example for your family, your employees and your customers. You will then be able to help your fellow man; you will become the type of person your employees want to work for; and you will become the type of person customers want to buy from.
Bert Boeckmann, Owner
1953
Bert Boeckmann joins Galpin as a salesman.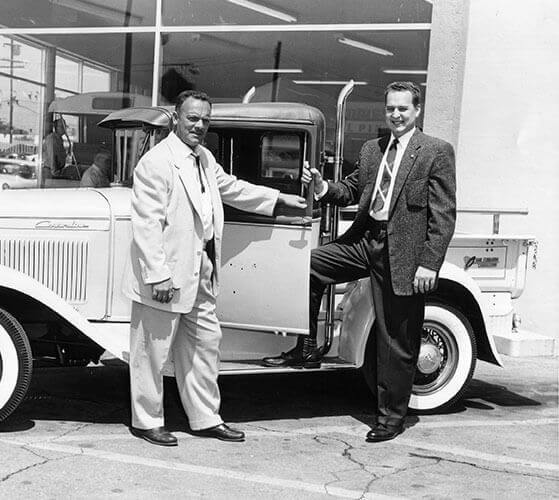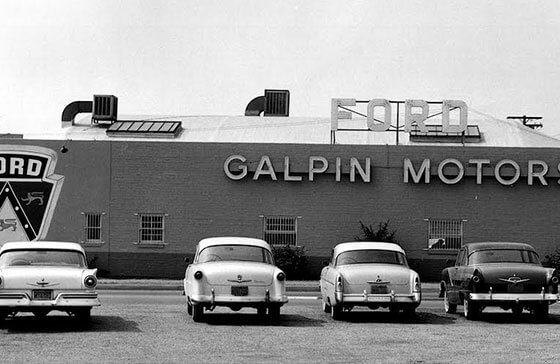 1953
1953 Building "B", in San Fernando.  A former Studabaker dealership, this building would become "Modern Edsel" in 1958.
1957
Bert promoted to General Manager.
Bert's rapid success and promotion to General Manager is primarily due to his devotion to the customer. He genuinely cared about people, and wanted to help his clients purchase the vehicle of their choosing.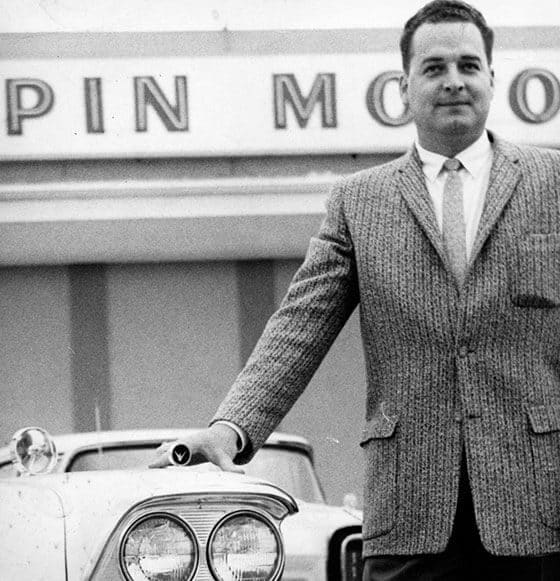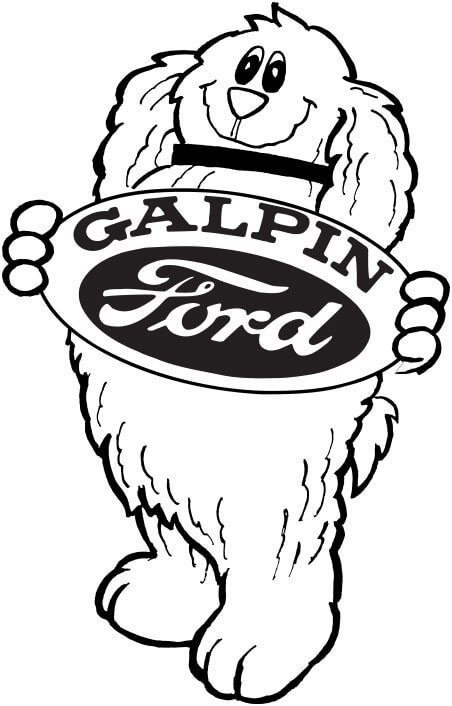 1958
Galpin's "Shaggy Dog" mascot is introduced, becoming a popular attraction at parades and special events, then the star of his own line of "doggie banks," stuffed animals, coloring books and even his own comic strip! Shaggy was featured throughout the 1970s, when artist Dirk Wunderlich gave the character a "cuter, more cuddly" appearance.
1958
A look back at a classic full page Galpin Ad.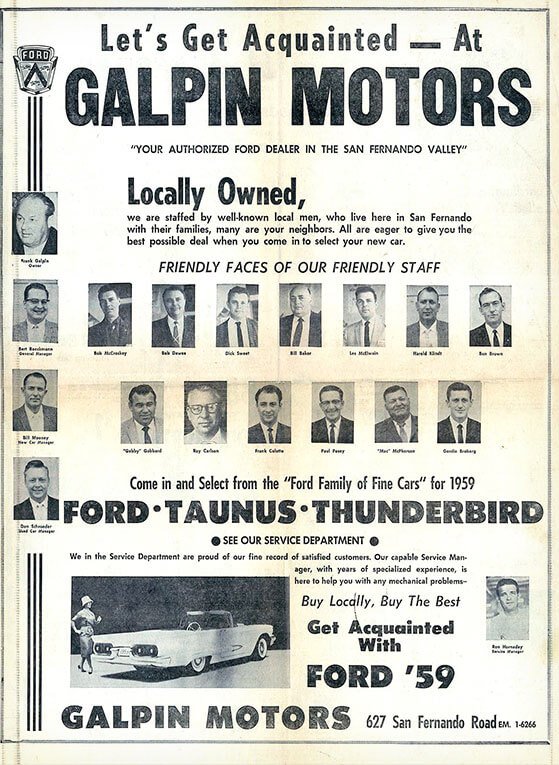 I was just home from the Air Force in December, 1953, starting a new life, buying my first brand new car. It was a black '54 Ford sedan. I was one of Bert's first customers. He was just a young new salesman, and the nicest I ever met. I felt I could trust him. And now, all these decades later, I've just bought a new Taurus… also from Bert!"
Lou Gil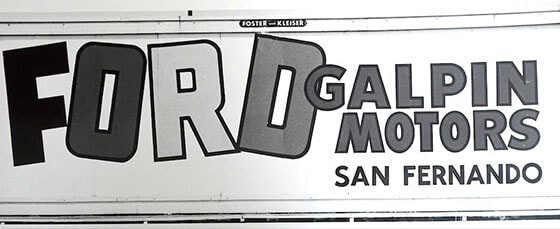 1960
Leasing vehicles to individuals is born. Another Galpin first.
1961
Galpin Ford launches a West Coast NASCAR racing team with drivers Ron Hornaday and "Steady Eddie" Gray. Hornaday leads the Galpin team to four consecutive NASCAR West Coast Division championships! Ron Hornaday Jr., following his dad's lead, becomes a popular NASCAR champion with 4 Nationwide Series and 36 Craftsman Truck Series victories.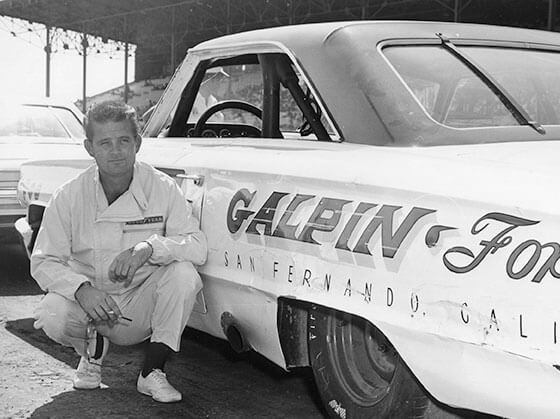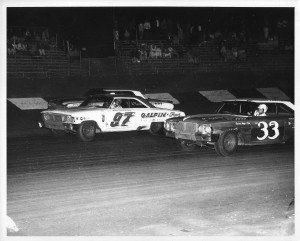 1964
Ron Hornaday leading a race.
1964
A vintage ad promoting Galpin leasing on the 1964 Ford Thunderbird.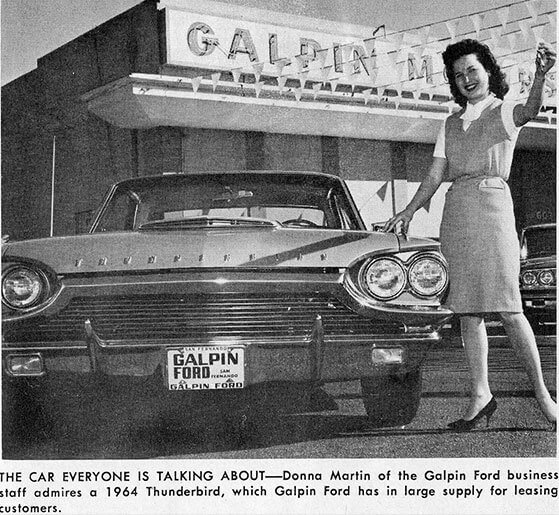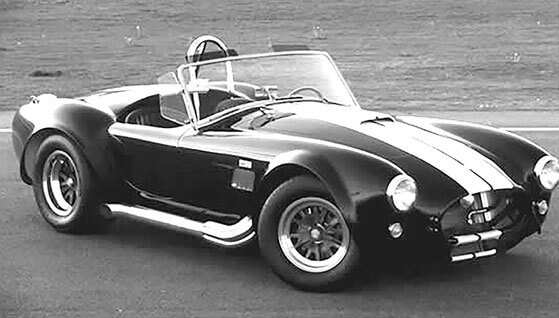 1965
Galpin becomes the first Shelby dealer in California, exclusive Valley dealer for Shelby and the Shelby Cobra.
Galpin sponsors the first Mustang Owners and Shelby Cobra Clubs.
1965
Bert, always looking for the next automotive innovation, teamed with entrepreneur Heinz Prechter to introduce European sunroof technology to America. When Ford executives visited the dealership and discovered the popular sunroof equipped vehicles, they approached Prechter to make sunroofs for a multitude of Ford models. He complied, founding American Sunroof Company (ASC), and the U.S. sunroof industry was born.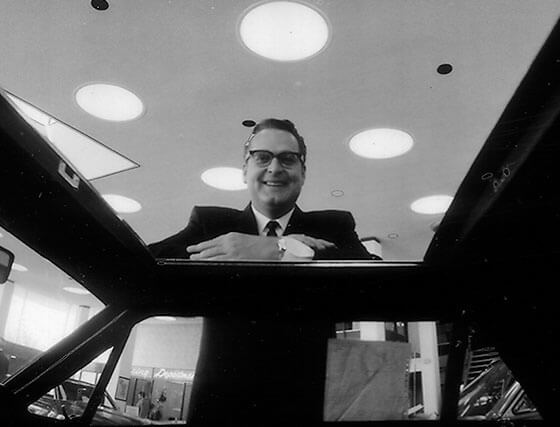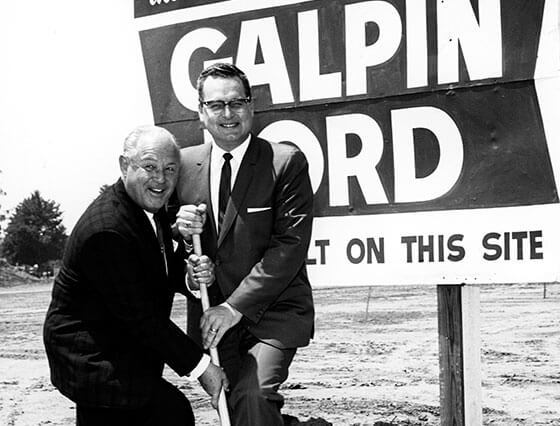 1966
Galpin Ford moves to its current location on Roscoe Blvd. called "Galpin Square". The vast, modern showroom, with display space for 17 vehicles and featuring the world's first full-service, in-dealership restaurant, is an instant community attraction, ideal for special shows and events.
1966
Galpin Square under construction.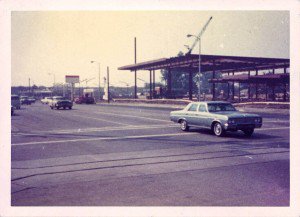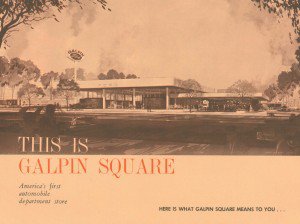 Galpin Square envisioned as America's first automobile department store.
1967
Bert & the Sales team photographed in front of Galpin Ford.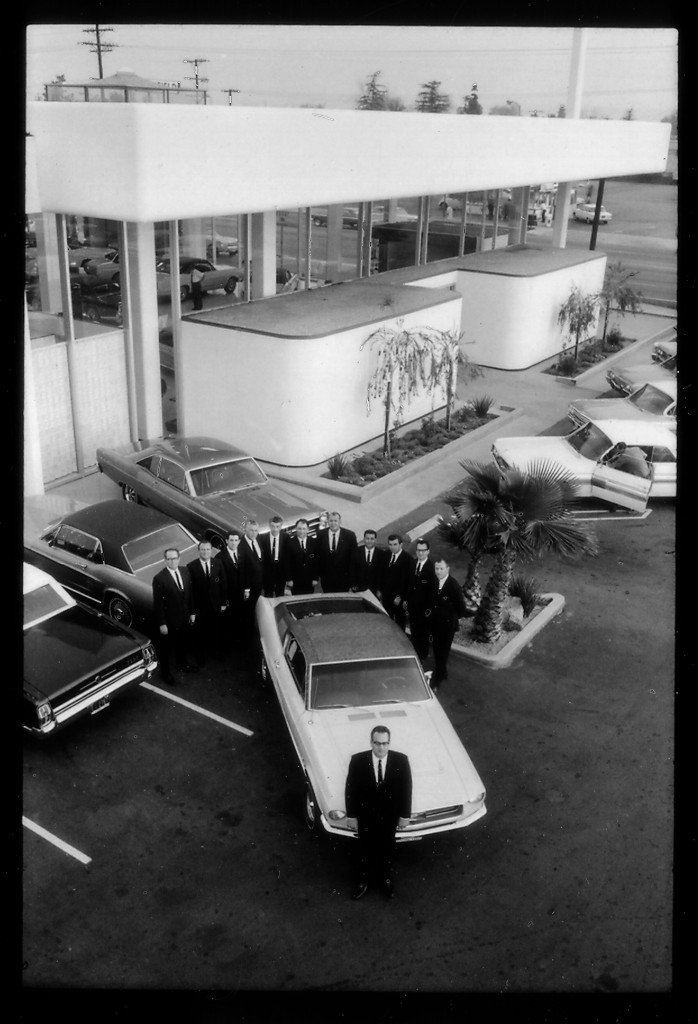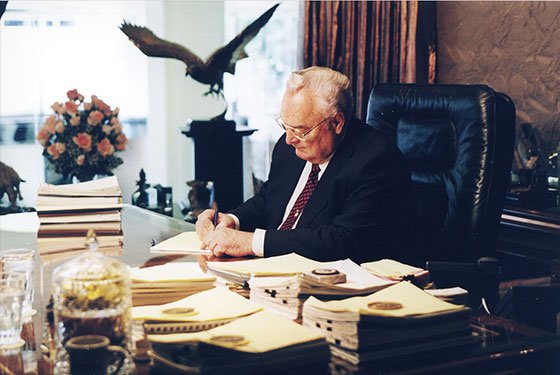 1968
Bert becomes the sole owner of Galpin Ford.
1969
A Valley Christmas tradition begins in the new Galpin Ford showroom when Jane Boeckmann and Gloria McCord decorate Galpin's first giant Christmas tree. Through the years, the decorations evolve into a festive and elaborate Christmas village installed by Charles McCord, Galpin facilities manager.
The tradition even continues to this very day, carried on by the families' future generations.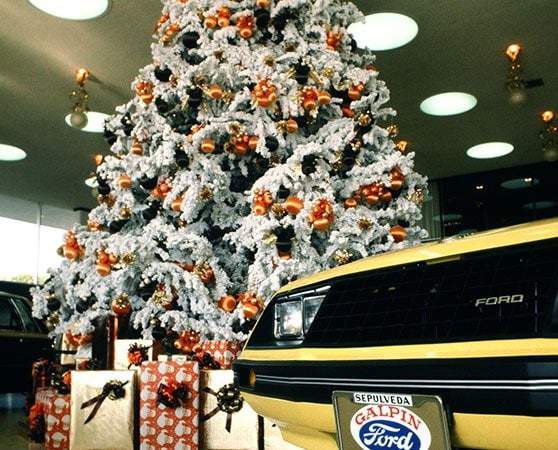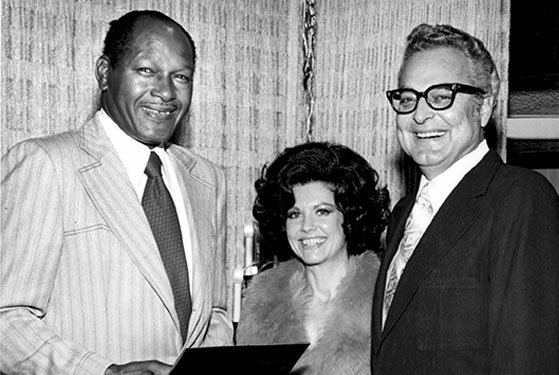 1969
Mayor Tom Bradley congratulates Jane and Bert when Galpin Ford wins the Brand Names Foundation Automotive Retailer of the Year Award. In 1974, Galpin wins the prestigious honor a second time, unprecedented in the industry.
I always thought of the restaurant principally as a convenience for our customers - a place where they can relax while their cars are being serviced or their purchases are being processed. You can talk things over in the restaurant without leaving the dealership.
Bert Boeckmann, Owner
1970
Bert teams with "Mac" McPheeters, a leading manufacturer of precision aircraft equipment, to create Establishment Motor Homes. Bert's wife, Jane, designs a series of spectacular interiors, and when the Establishment is introduced at Dodger Stadium, crowds go wild over the leopard skin and velvet interiors, unusual fixtures and extras. In its first year of business, Establishment becomes the #1 selling Class C motor home in California!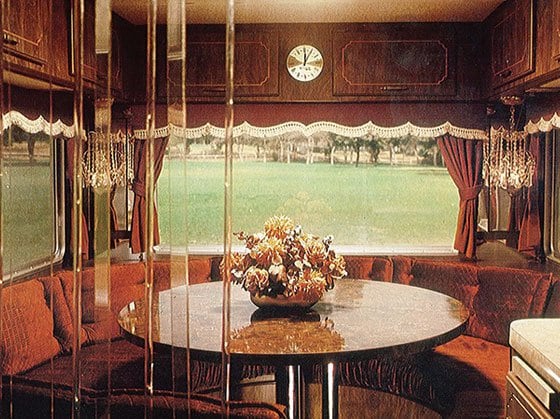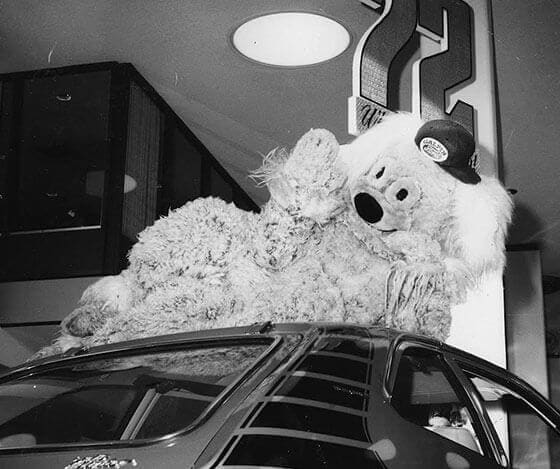 1971
"The Shaggy Dog" at the new dealership, to promote the new 1972 Pinto!
1972
Jack Ong, Marketing Manager, diligently reviews a newspaper ad.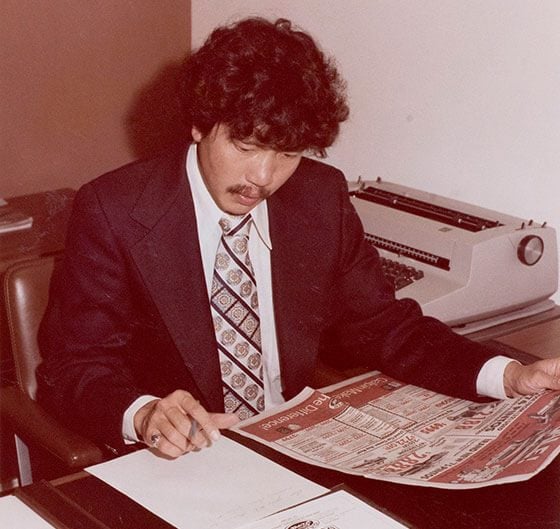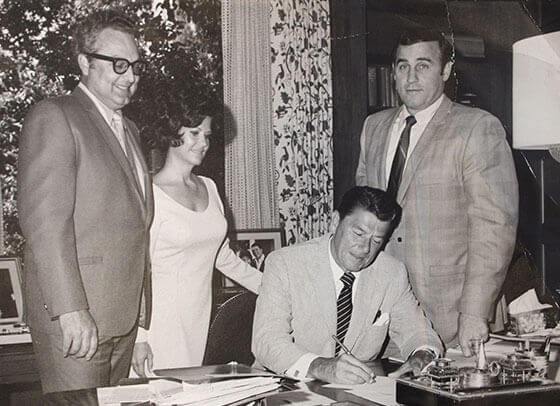 1974
Bert and Jane with Ronald Reagan.
1974
From the sketchbook of Dirk Wunderlich, Galpin's 'Galpinvolvement' yearbook.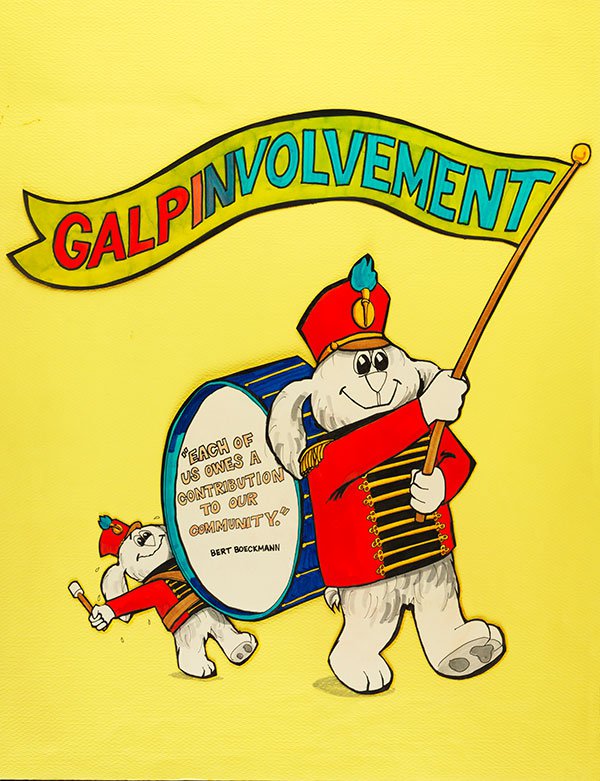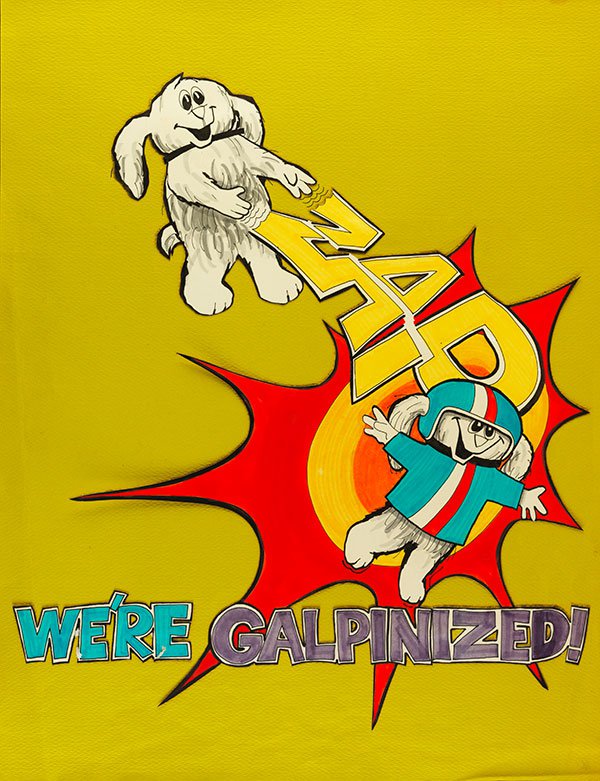 1975
Galpin's 'We're Galpinized' yearbook by Dirk Wunderlich.
1976
Bert posing with Galpinized custom vehicles in a Ford Dealer Magazine.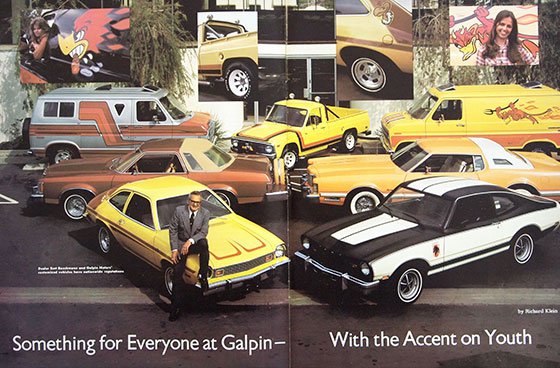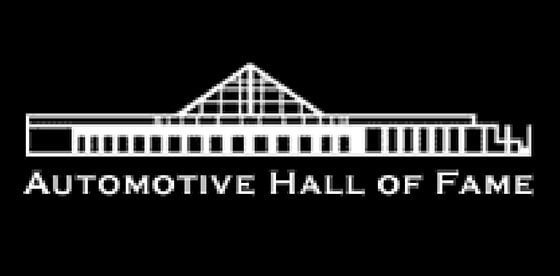 1979
Bert is inducted into the Automotive Hall of Fame.
When I think about what's right in America, I will always think of men like Bert Boeckmann. May your good deeds be rewarded with continued success and good health."
Ronald Reagan, President of the United States
1980
When Ford halted production of the Mustang convertible in 1980, Galpin built its own! When Phil Caldwell became Chairman of Ford Motor Company, he saw the Galpinized Mustang convertible and was so impressed that he shipped it back to Detroit. Soon, Ford was producing Mustang convertibles again!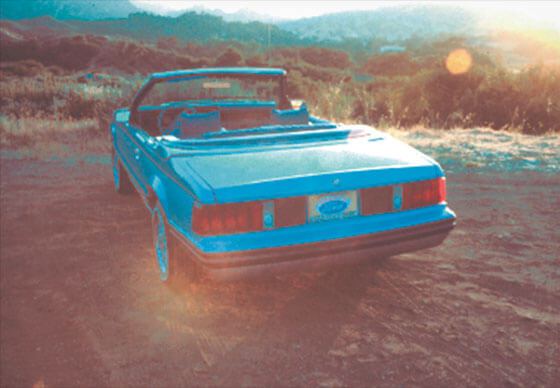 1982
Always concerned about environmental quality, Bert establishes Future Fuels of America, opening the first Methanol service station in the world. The grand opening is attended by such dignitaries as Mayor Tom Bradley, Lt. Gov. Mike Curb, Barry Goldwater, Jr., Iron Eyes Cody, Robert Stack and Charlton Heston.
1985
Time Magazine, in collaboration with the National Automobile Dealers Association, names Bert the National Quality Dealer of the Year, best of 25,000 dealers in America. This is the highest possible honor bestowed upon a dealer.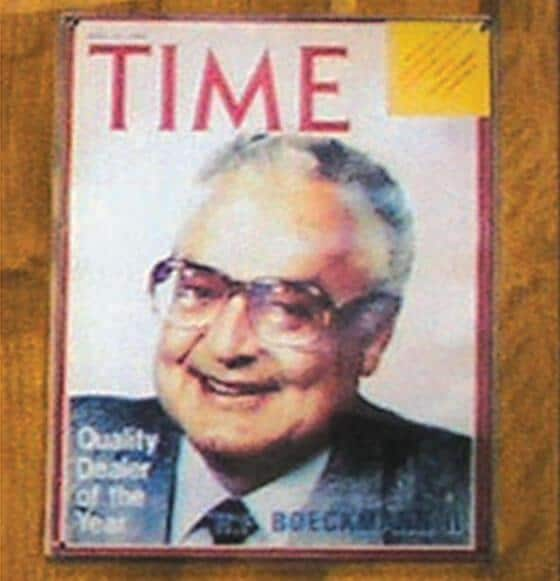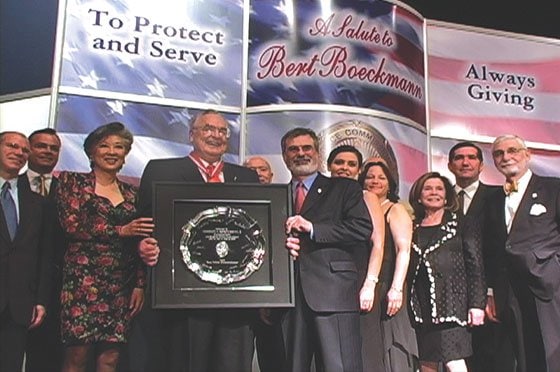 1986
Mayor Tom Bradley appoints Bert to the Los Angeles Police Commission. Bert begins what will become an unprecedented 16-1/2 year volunteer term of service under three mayors and alongside six police chiefs. He earns the reputation of being "the cop's commish"!
1987
Bert and Jane's son, Beau, joins the Galpin Motors team, going on to become Vice President in 1998, opening Galpin's customizing arm GAS in 2006, and in 2014 became president & COO of Galpin Motors.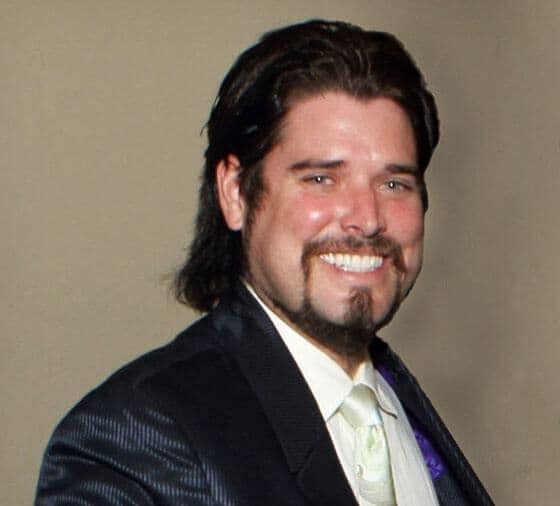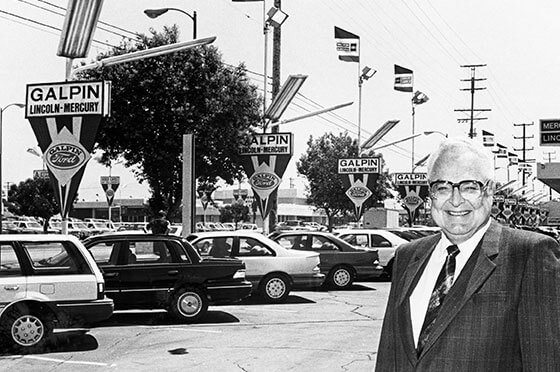 1988
Boeckmann opens Galpin Lincoln/Mercury, taking an under-performing dealership from being the worst in Customer Service Index and low sales to #1 in Customer Service and the #1 sales leader in the Western United States!
1989
Galpin Ford becomes the #1 Volume Ford Dealer in the World for both cars and trucks, an achievement Galpin Ford repeats every year to this day!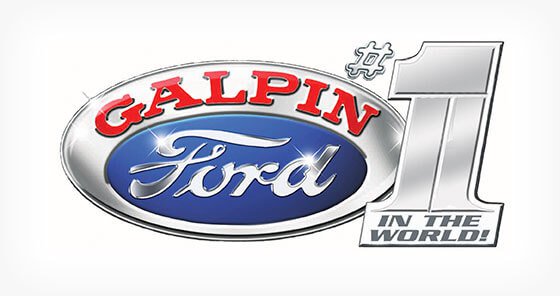 When I see what Bert has accomplished and what his family has accomplished, it's a model for my family. And frankly, a role model for me. At Ford, we talk about having three objectives. We want to have great products, build a strong business, and build a better world. That's what you have done, and again, it's a model for us! Your Galpinized vehicles, the success of your business, and what you've done for your community…it's really unprecedented! In so many ways, what we set out at Ford to do is exactly what you've done. Bert, you're a great model and a great inspiration for all of us at Ford Motor Company and especially my family
Bill Ford, Chairman, Ford Motor Company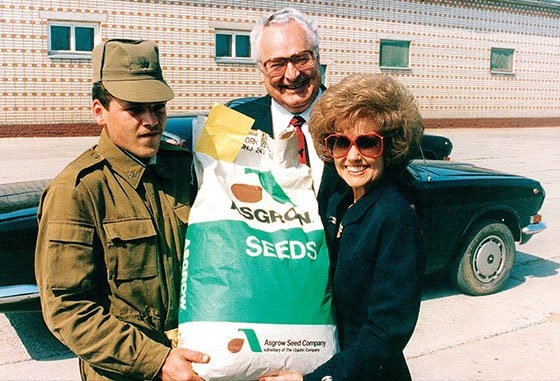 1991
When Russian farmers fear for the lives of citizens around Moscow due to crop shortages, Bert and Jane Boeckmann arrange for a delivery of 57,000 pounds of seeds to Moscow farmers. The Boeckmanns go to Moscow to oversee the delivery and distribution.
1993
Jane Boeckmann is honored by the San Fernando Valley Business and Professional Association with the Free Enterprise Award as "an outstanding businesswoman, wife and mother, a true patriot, and one who exemplifies a dedication to the best interests of the free enterprise system."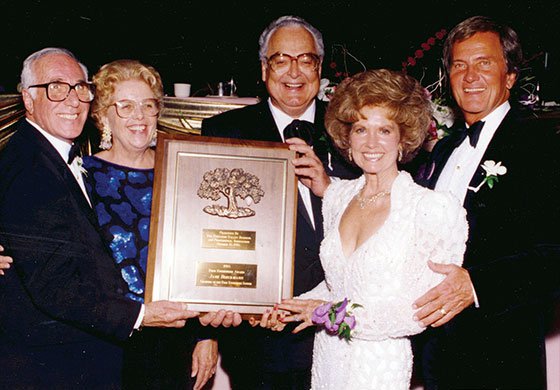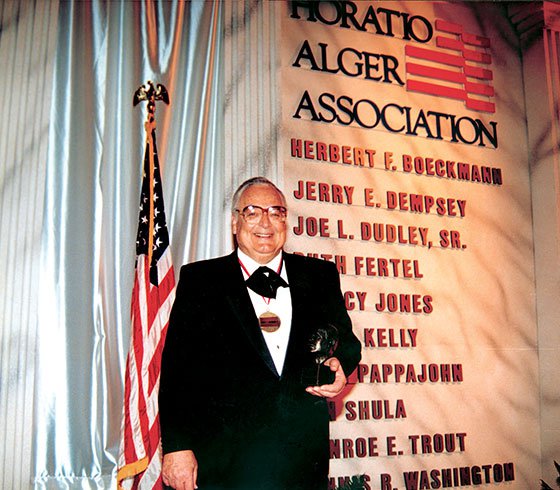 1995
Bert is honored by the Horatio Alger Association of Distinguished Americans for his outstanding success achieved through hard work, upstanding business ethics and worldwide philanthropy. Bert is the first auto dealer to receive this award, joining four presidents, six presidential hopefuls, and a veritable Who's Who of American history from every major field of endeavor.
1995
Boeckmann opens Galpin Jaguar with a spectacular British-themed gala. Galpin Jaguar has become #1 in the world in sales volume and a leader in service and customer satisfaction. Jaguar president Mike Dale selects Galpin Jaguar for the world premier of the XK8; Jay Leno is on hand to take delivery of the very first XK8.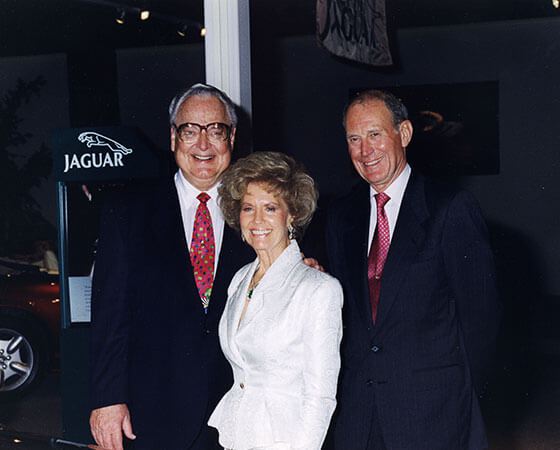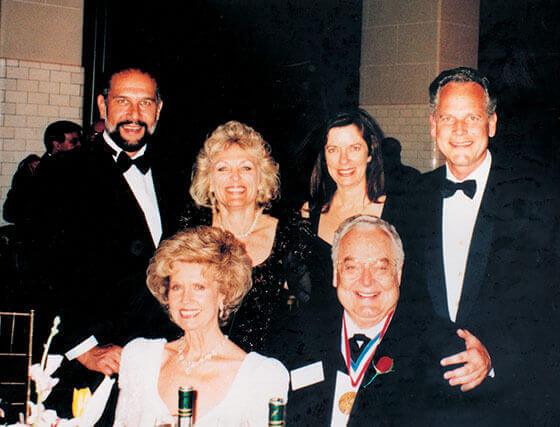 1997
Bert receives the Ellis Island Medal of Honor, presented by the National Ethnic Coalition of Organizations Foundation.
1997
Boeckmann opens Saturn of Santa Clarita.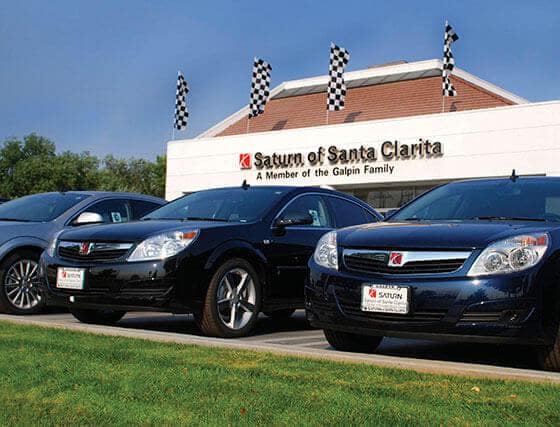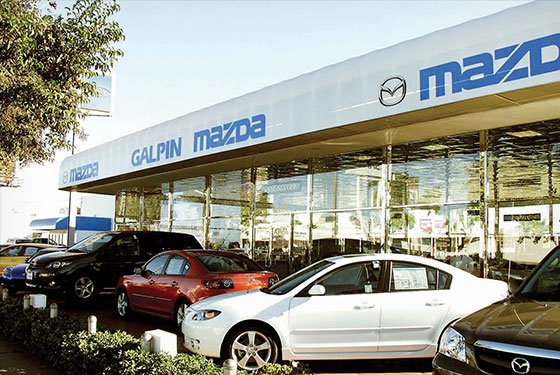 1998
Galpin Mazda opens, quickly becoming #1 in customer satisfaction and the fastest growing Mazda dealership in America, and in 2016 officially became the #1 selling Mazda dealer in the United States.
Bert Boeckmann redefined the customizing business in the '60s, and Galpinized vehicles have been making headlines and drawing attention on the road ever since! His son, Beau, has taken "Galpinizing" to new heights with Galpin Auto Sports, which opened in 2006.
2000
Ford Motor Company honors Bert as its first Hero for the Planet, a tribute to Bert's commitment to making the world a better place to live through exemplary business ethics, community involvement and global philanthropy.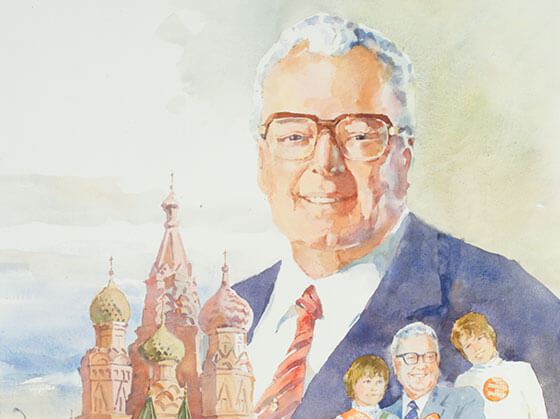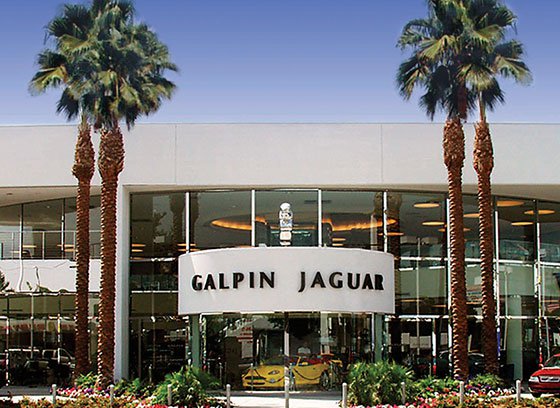 2001
The Boeckmann Family opens the Galpin Premier Collection, presenting Galpin's Aston Martin, Jaguar, Lincoln, Mercury and Volvo dealerships in a dazzling state of the art, multi-level showroom that also features a merchandising galleria and the very first in-dealership Starbucks.
2003
Bert Boeckmann Day is declared by Governor Gray Davis on July 24, saluting Bert on his nearly 17 years as LA Police Commissioner. Over 1400 of Bert's friends turned out to laud his service. Even President George W. and Laura Bush send their personal best.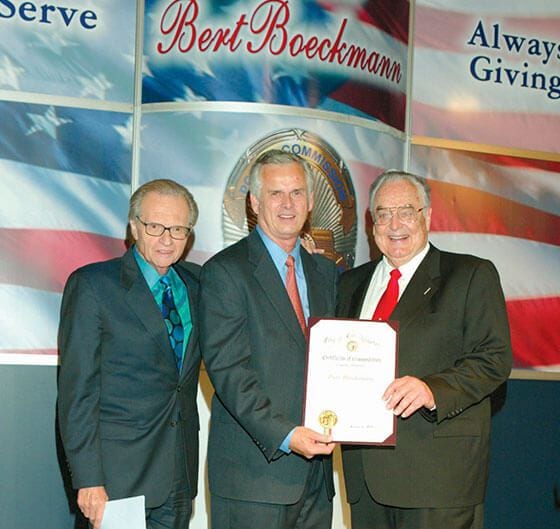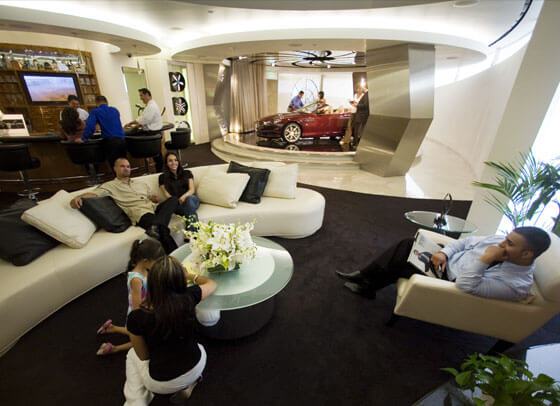 2005
Club Aston - immediately acclaimed as the most unique Aston Martin Showroom in the world - opens to global attention, with Governor Arnold Schwarzenegger heading a roster of entertainment, political and society celebrities in attendance at what is heralded as "the party of the year"!
2006
Galpin Auto Sports (GAS) opens, a unique customizing and aftermarket dealership combining all the elements of "Galpinizing" under one roof for customizing convenience. GAS becomes the home of MTV's hit show, "Pimp My Ride," bringing customizing into living rooms around the world!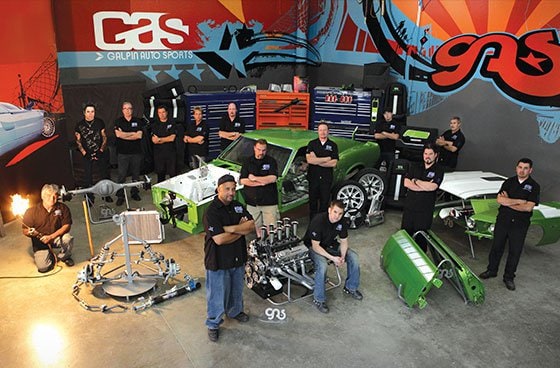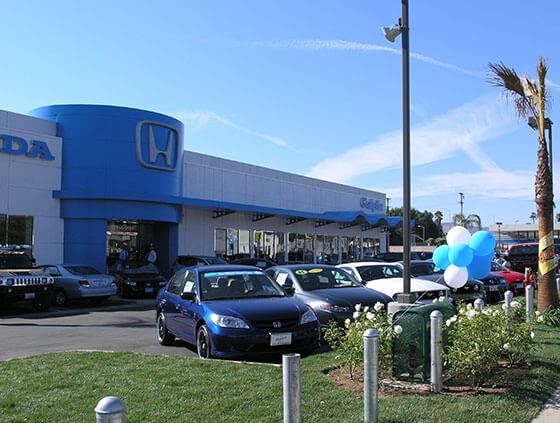 2006
Galpin Honda opens in Mission Hills, the ninth franchise to join the Galpin Motors family of automobile dealerships.
2008
The Boeckmann Family hosts a star-studded Gala Grand Opening on Oct. 18 to celebrate Galpin Auto Sports.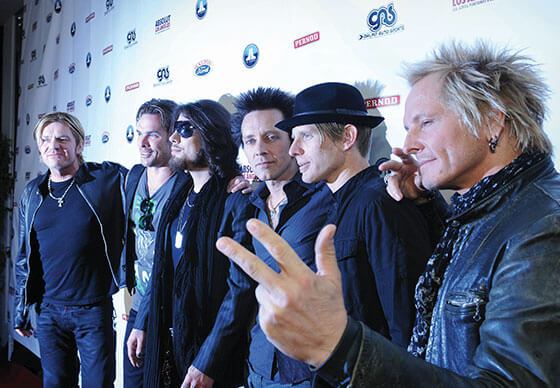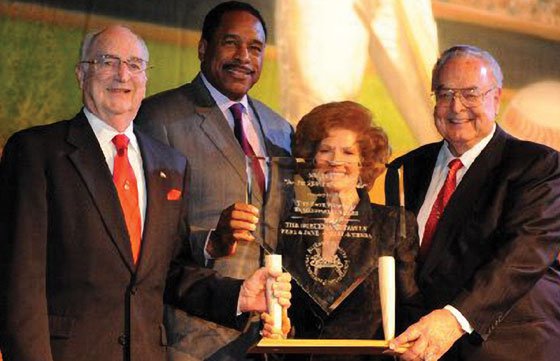 2008
Jane Boeckmann is honored with the American Spirit Award by the Americanism Educational League. Entertainer Pat Boone presented the prestigious award.
2009
Henry Ford III, great-great grandson of the American icon who founded Ford Motor Company and revolutionized American industry, spent the summer learning the auto retail business as an intern at Galpin Motors. Henry was earning his MBA at MIT.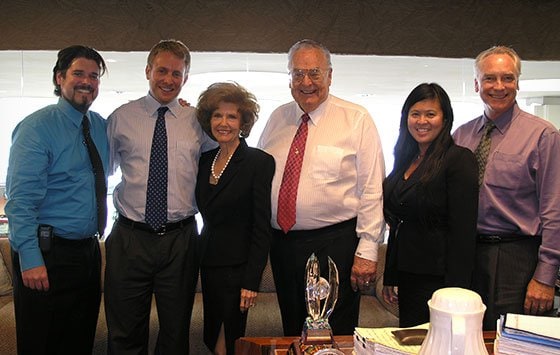 Bert, Jane and their family exemplify the best of businesses that feel a strong commitment to the community they serve. The Boeckmann Family encourages their Galpin team to a high standard of involvement, giving generously of their time and resources to support countless individuals, groups and organizations that represent all walks of life…all around the globe!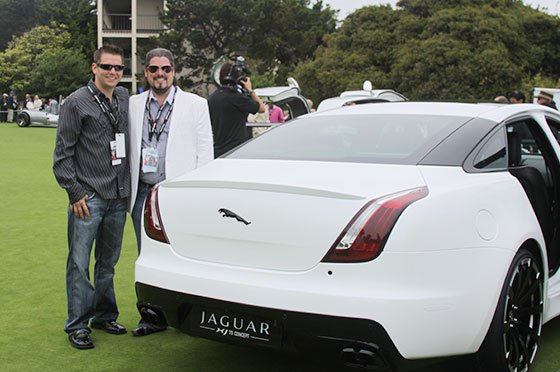 2010
GAS is commissioned by Jaguar Cars to build the Jaguar XJ75 Platinum Design Concept to commemorate Jaguar's 75th anniversary. The GAS-built XJ75 was showcased at the prestigious Pebble Beach Concours D'Elegance. Galpin has been invited to feature a vehicle at this event every year since.
2010
Greek teenager Vasilis' dream became reality when the Make-A-Wish Foundation (which grants the wishes of children with life-threatening medical conditions) brought the youngster and his family to GAS. Vasilis got to spend the day with his TV idol, "Pimp My Ride" host Xzibit, and enjoyed the Boeckmann Family's royal treatment as he got up close and personal with custom classic cars in the Galpin Collection.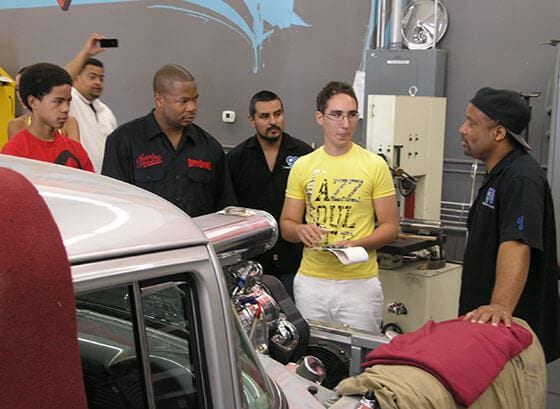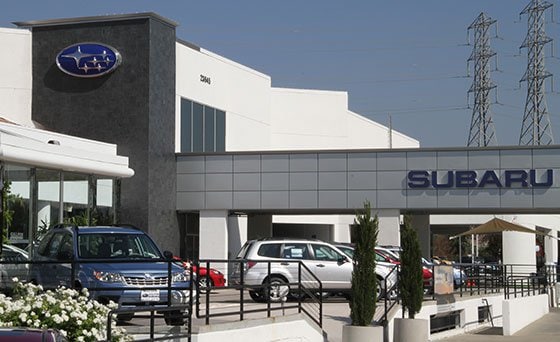 2010
Galpin Subaru opened in 2010 at Galpin Santa Clarita, adding another remarkable brand to the ever-growing Galpin Motors Family of automobile dealerships!
2012
Galpin Volkswagen joined the stellar lineup of Galpin Motors franchises in 2012, opening at 15421 Roscoe Bl., just east of Galpin Ford and Galpin Pre-Owned.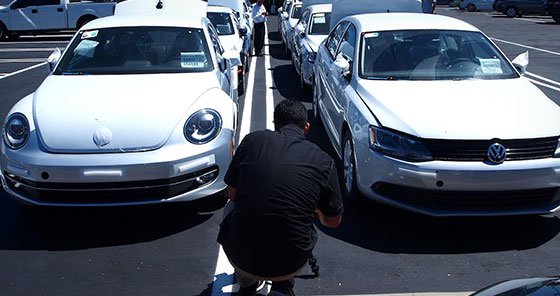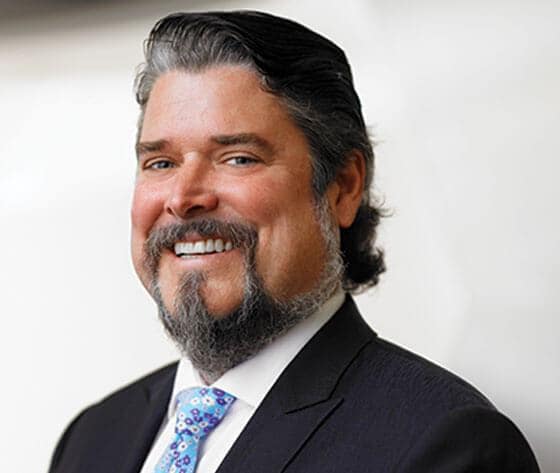 2014
Beau officially named president & COO of Galpin Motors.